Pom Poko
Anime Review
Opening Comments
Today i'm going to be taking a look at quite a bizarre Studio Ghibli film by the name of Pom Poko. Written and directed by Isao Takahata, Pom poko was released in 1994. If you've ever seen it before you'll understand what I mean when it takes a real life problem and flips it into a dimension of crazy. I bought the film about a month ago because it was one of the only Ghibli films that I hadn't seen yet. I settled down to watch it with my girlfriend, expecting a nice serene film about funny little woodland creatures doing cute things, just like you may expect from a Ghibli film. I was very wrong with my predictions.
Our story is told in the style of a television documentary, telling the tale in snippets and giving detailed dates as to when the events are happening. A voice over narrates the story from the start and I found that this really added to the atmosphere in some of the more emotional scenes. As usual with Studio Ghibli, this is a film with a message, and the message of this story, is that we need to start to take better care of our wildlife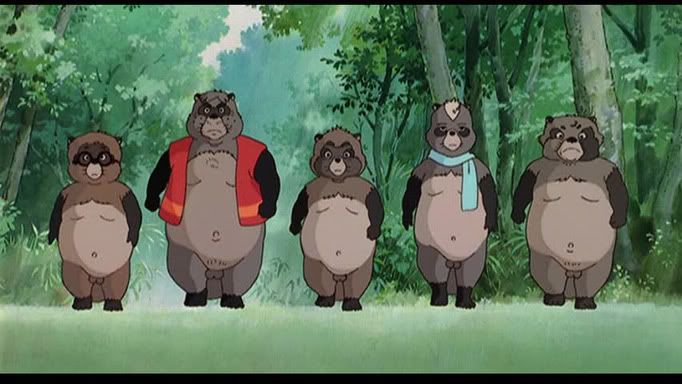 Pom Poko begins in the Tama Hills region of Japan in the late '60s, the whole area is being levelled to build a suburban housing development and the Tama Hills Tanuki (roughly translating as Racoons) are under threat of having their forest home torn up. As the racoon's territories are shrinking they begin to break into warring factions and fight over what space they have left. But when a Tanuki Elder shows each side the true threat, they team up to fight the humans. At this point I should tell you that in this tale, some racoons have the ability to transform their shape. As the story progresses, the racoon's troubles only grow, and as plans for a theme park reveal themselves the racoons resort to consulting legendary elders from other regions, this is with the hope that the other elders may come up with a way to stop the humans and save the Tama Hills Tanuki. The racoons do however, meet up with a fox who shows them how easy it is for animals with transforming abilities to blend in with humans. When the elders finally get into contact with the racoons of Tama Hills, they begin to plan a massive "Spectral parade" in an attempt to make the humans believe that their town is haunted. When this inevitably fails those Tanuki with transforming abilities end up following the foxes lead and merging into the world of humans. A very emotional final scene leaves the viewer with this message "Please take care with your wildlife, look after them and don't destroy their habitats".
This is probably one of the most bizarre films that I have or will ever see, but despite that I absolutely loved it. Some of the weirder points are the obvious, transforming racoons don't really exist, and it was such a unique concept that it really sticks out, although not necessarily in a bad way. Another way in which this film is odd, is the mildly disturbing inclusion of a set of, very clearly visible, testicles on each male Tanuki, upon further research however it appears that conspicuous testicles play a major part in the Japanese folklore regarding Tanuki.
The art style of Pom Poko was just as I've come to expect from Ghibli, unimaginably beautiful. There is however a very interesting little thing to do with the way the Tanuki are drawn, in some scenes when the Tanuki are acting their most human, they are drawn with clothing and more distinguishable humanoid features. When they are very joyful the Tanuki are drawn in a manga style similar to Shigeru Sugiura, and lastly, whenever the Tanuki appear before humans, they are drawn to look like regular racoons.
Sometimes I notice that the English dubbed version of a Ghibli film can have some rather odd choices of actors to dub certain characters, but the casting for this film was really rather well thought out. Each character had a voice that fitted them very well if not perfectly, even the less important characters.
Closing Comments
Overall I loved this film, even if it was a little quirky. Yes the inclusion of Tanuki testicles threw me a little, and is probably a little inappropriate for some younger audiences but it is tradition for Japanese folklore so I have no right to say it shouldn't have been included. I am really looking forward to taking a look into some of Takahata's other works, and would most definitely suggest that you take a look at Pom Poko, unless of course seeing some cartoon genitals might offend you. Ta ra nerds, happy film viewing!
The Verdict
---